!-GénérEpar Avanquest Technology v:8.0. Pour plus d'information, visitez : http://www.avanquest.com -->


Jorge de Paz is a lifelong human rights activist. He has dedicated most of his life to the fight against discrimination, injustice and poverty. His work knows no borders; he has campaigns in Canada, the United States, Mexico and his native Guatemala. Currently, he is an honorary Ambassador of Tourism for Guatemala and has been recognized for his work by many organizations.
Jorge is a great community leader and a champion for multiculturalism. His vision to create the Canadian Multicultural Center has been widely accepted by other community leaders, church leaders and school boards. His vision of having a permanent multicultural display center will work as a great educational tool and can become a business center as well.
JORGE DE PAZ
CRUSADER FOR HUMAN RIGHTS
Jorge in the news: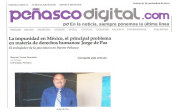 Spanish

Spanish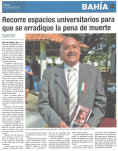 Spanish